For Sales Associate & Other Courses
Verify your Course has not expired by checking your order email for the date of purchase. Expiration dates are calculated from the order date. See the expiration by Course below:
FREC I Sales Associate 63-hour Course - Basic Package (6 months); Value Package 2 & Unlimited Package 3 (12 months)
Sales Associate 45-hour Post License Course - 6 months
14-hour Continuing Education Course - 12 months
Florida Cram Exam Prep Course - 60 days
28-hour Reactivation Course - 12 months
4-hour Escrow Management Course - 12 months
If your Course has not expired:
1. Click on Forgotten your username or password?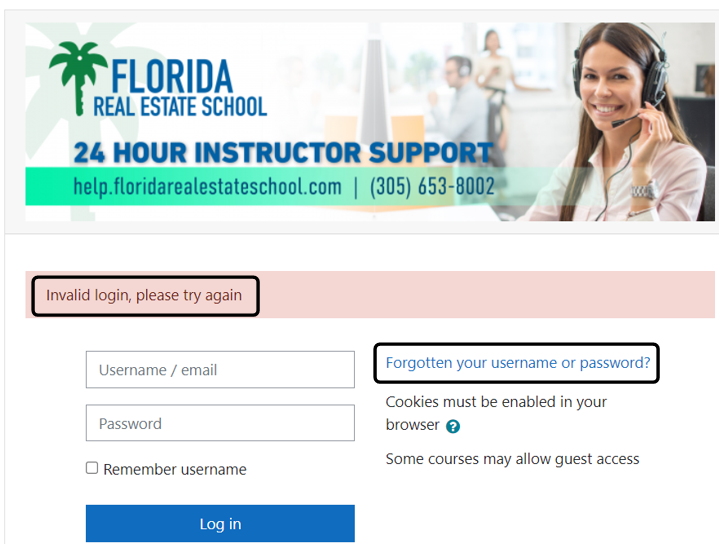 2. Search by email address.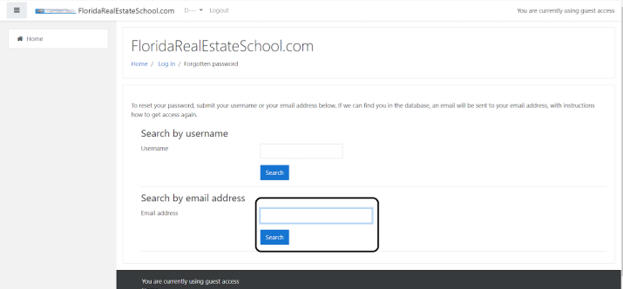 3. If you receive the success message, please go to your email and follow the steps to reset your password and access your Course.
4. If you receive an error message "The user detail you supplied does not identify an existing user account"- either the wrong email address was entered or the course has expired.
5. If the Student can confirm that the email address used was the one used during registration, the course has expired.
Contact us at (305) 653-8002 and select option 3 from 9:00am - 6:00pm Eastern Mon - Fri to discuss extension options.